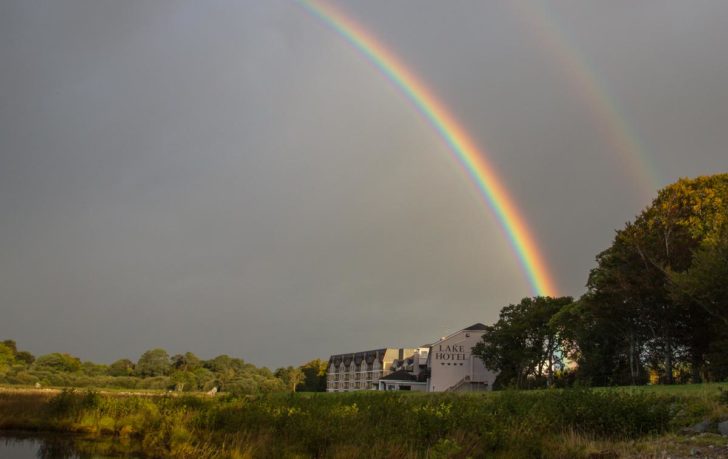 Where to stay on the Ring of Kerry
There are endless choices of accommodation on the Ring of Kerry you can find most of them on Accommodation Booking websites. You can find camping to 5-star hotel accommodation on the Ring of Kerry, we recommend the unique experience we offer to visitors and have been doing this for over 100 Years.
Here are two family run Hotels both situated on the World famous Ring of Kerry :
The Lake Hotel
Family run for over 100 years
Floodlit 12th Century Castle on the grounds
Award-winning Bistro and Fine Dining restaurant
Friendly staff
Magnificent location
On the Ring of Kerry
Outdoor Hot tub
Our own Craft beer served in the "Devil's Punchbowl bar"
Lakeside setting
The Butler Arms Hotel
Situated halfway around the Ring of Kerry in the scenic village of Waterville, it is here the Huggard family operated two hotels in the early 1900s. Waterville has become a haven for Golf addicts due to the magnificent Links golf course with another one due to open early 2017. Many of the top actors, football players, NBA and Professional Golfers have visited Waterville to play golf.
Ring of Kerry Ireland from Vacation Killarney on Vimeo.
Outside the rich and famous there are many interesting sites to see around Waterville like the beautiful Beach by the Golf links, walk the promenade take a picture with the Charlie Chaplin Statue, better again visit the Fisherman's bar for lunch and walk through the Chaplin Lounge afterwards.
The Eightercua Stone Row in Waterville 1900 BC is a Megalithic tomb of four stones in an East to West direction aligned with the September solstice. Scéine wife of one of the leaders of the Milesians invaders to Ireland is buried here you will find it on a slight hill on the left-hand side as you leave the village heading for Caherdaniel about 1.2km beyond the bridge on the edge of the village.