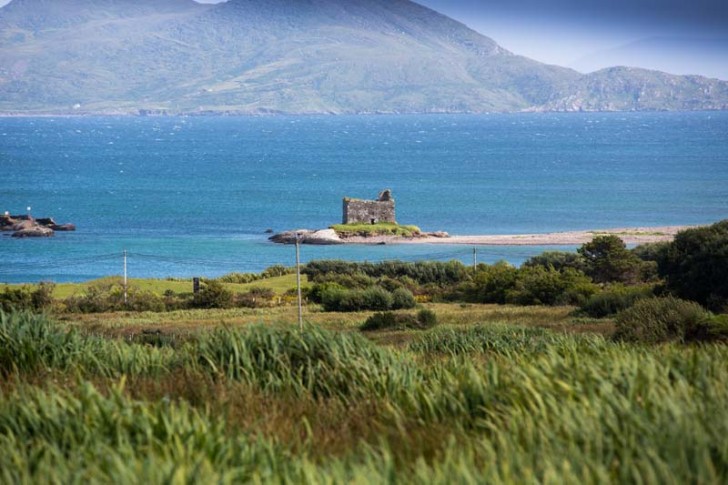 Ballinskelligs
Ballinskelligs, is a Gaeltacht village in the south-west of  County Kerry, Ireland.  Ballinskelligs or "Baile na Sceilge" is one of the few remaining Irish speaking areas in Kerry.
Ballinskelligs gets its name from 'Baile' which is Irish for town and 'na Skelligs' which is 'of the Skelligs':  Town of The Skelligs.  The origins of this name goes back to the 6th century when monks set up home on the nearby Skelligs rock.
The smaller island is Little Skellig.  It is closed to the public, and holds Ireland's largest and the world's second-largest Northern Gannet colony, with almost 30,000 pairs. It is about 1.5 km east northeast of Great Skellig.
The larger island is Great Skellig, also known as Skellig Michael, and has two peaks rising to over 230 m above sea level. With a sixth-century Christian monastery perched at 160 m above sea level on a ledge close to the top of the lower peak.  The science fiction favourite "Star Wars: The Force Awakens" was filmed on Skellig Michael.   It was also used for the next film in the series, Star Wars: Episode VIII.  Skellig Michael is named after St Michael.
St Michael is very important in Ballinskelligs.  The Abbey, church and school are also named after him as well as St Michaels Well.  St. Michael's Well is situated in Dungegan Village off the R566 road.  The waters of the well were thought to have miraculous powers in the 18th Century, curing ailments such as blindness and lameness.  St. Michael's feast day is on the 29th September. It is called the Pattern or Pattern day.   Huge crowds would attend, drink the water and the pilgrims stayed for two days. They sometimes then took a pilgrimage walk from Ballinskelligs to Portmagee and Valentia Island visiting other holy wells on the way.
There are some lovely beaches around Ballinskelligs such as Reenroe Beach and St Finians Bay which is the most westerly and deserted surf fishing beach in Europe.  The main beach is Ballinskellig Beach, also known as Ladies Beach.  This beach is very popular with the locals.  It is a Blue Flag beach with toilet facilities, running water, a 50 space car park and an adjacent coffee shop.
Shivaun Huggard seen here with Janie Chaplin (Charlies daughter) horse riding was very popular on Reenroe beach and with the Chaplin family. Reenroe was also where Ireland's first Surfers appeared in 1967 it was known as a "Surf Safari" Billy Huggard from the Butler Arms hotel in Waterville showed them the great waves in Reenroe beach in Ballinskelligs.
An old castle ruin, Ballinskelligs Castle can be found on this beach, known locally as McCarthy Mór Castle (or Ballinskelligs Castle).  It is prominently located and it is in a relatively good state of preservation.  Its purpose was to protect the bay from pirates and also from which to charge a tariff on incoming trade ships.
The Skellig Ring Scenic Drive is without doubt the best section of the world famous Ring of Kerry Scenic Drive route without the hassles of tour buses.  The Skellig Ring scenic drive starts in either Cahersiveen or Waterville depending on where you are on the Ring of Kerry. This trip takes in the wonderful Valentia Island accessed by ferry and bridge, the picturesque Portmagee that is home to the Skelligs Chocolate Company,   with Waterville Village and of course Ballinskelligs 'The Hidden Jewel'.
To accommodate these tourist attractions there is an abundance of places to stay such as Bed & Breakfasts, Hostels and Holiday Homes.  If just a passing visit there are restaurants (some specialize in fresh fish) and traditional bars.
A trip to Ballinskelligs will leave you feeling refreshed and relaxed…somewhere not to be missed if visiting Kerry!
If you are wondering what that derelict building near Reenroe beach is it was built in the late 1960's the "Reenroe Hotel" when it first opened it had many unique properties some not seen in Ireland. It was the idea of Billy Huggard to build a hotel which would offer something unique to visitors and for the time it was way ahead in Kerry.
Outdoor Swimming pool unique decorated with Shells
Indoor heated pool
Billiard tables
Games rooms
An Airstrip
Beehive Huts
Two beches
Horseriding 32 Horses
Sand Yachting
Surfing
Dance hall / Disco
Standing Stones