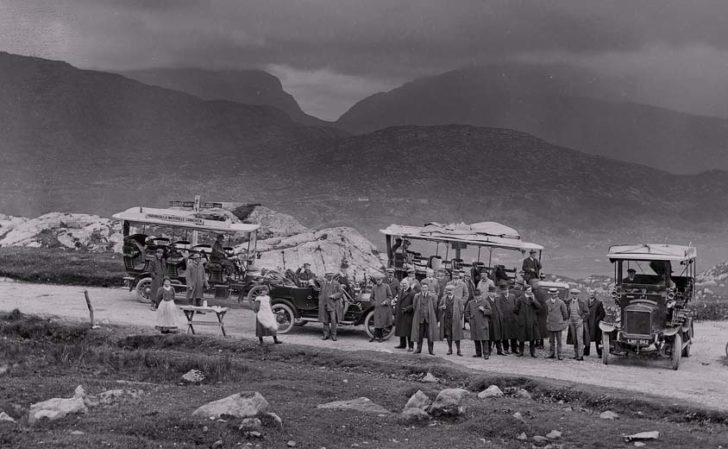 Molls Gap and Ladies View
Moll's Gap is a pass on the N71 road from Kenmare to Killarney in County Kerry, Ireland. It is situated on the stunning Ring of Kerry route, with views of the Macgillycuddy Reeks mountains. The view shows Carrountoohill, which is Irelands highest mountain, on one side and the Gap of Dunloe on the other.  This area is visited by thousands of tourists each year. Moll's Gap is named after Moll Kissane who is an ancestor of John Kissane. She was famous for her poitin (pronounced (put-cheen), which is a high-potency alcohol made from potatoes, which was traditionally distilled in a small pot. John Kissane still lives on the family grounds and runs Molls Gap Sheep farm where one can adopt a sheep. The Kissane farm is open to adoptive 'parents' who can see sheep dog and sheep-shearing demonstrations as well as cuddle and feed orphaned lambs.
There is also a local shop and café at Molls gap, Avoca, which sells jewellery, clothing, souvenirs and homeware, as well as a variety of lamb's wool, mohair and cashmere items. Avoca is also well-known for its delicious, wholesome food with a wide variety of home-made cooking, as well as a selection of preserves and wines.
Ladies View, with beautiful panoramic views of the Killarney Lakes, is situated just 19.2km south of Killarney on the N71. The name stems from the appreciation of the view given by Queen Victoria's ladies-in-waiting during their visit here in 1861. You will also find Ladies View Industries, which is famous for its gift shop, café and bar. The shop has a large variety of gifts and souvenirs. This area is one of the most beautiful and peaceful locations in Killarney.