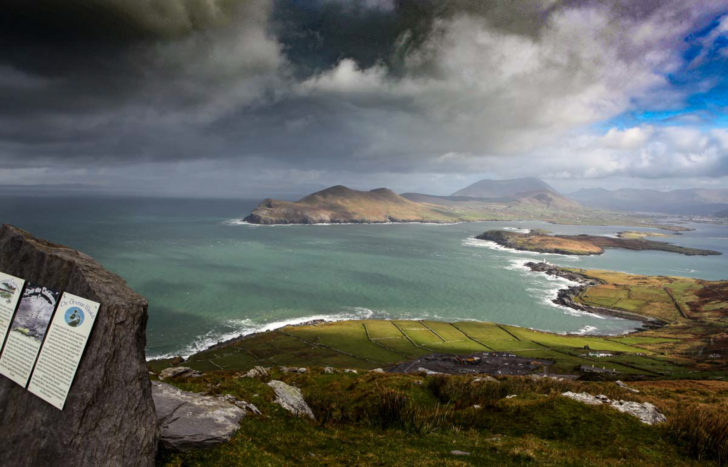 Valentia Island
Valentia Island is one of Ireland's most westerly points. It lies off the Iveragh Peninsula in the southwest of County Kerry. It is joined to the mainland by the Maurice O'Neill Memorial Bridge via the Portmagee Channel. A car ferry also departs from Reenard Point – 2 miles from Caherciveen to Knightstown, the island's main settlement, from April to October. A second, smaller village named Chapeltown is located at roughly the midpoint of the island, 3 kilometres from the bridge.
Geokaun Mountain and Cliffs are very popular with for walks or scenic drives.  Standing at over 270 metres, it is the highest point in the Ring of Kerry, with two kilometres of lovely walking trails and roadway.  Ample car park spaces, viewing areas and picnic areas along the way make this a very pleasant day-trip.  At the summit of the mountain,  there is a cable station and three viewing areas. Enjoy the panoramic views of the  MacGillicuddy Reeks,  Dingle Peninsula and the Atlantic Ocean.
The Skellig Islands, Skellig Michael and Small Skellig are also major attractions for Valentia Island.  They stand aloof in the Atlantic Ocean 12 km southwest of Valentia Island.
Skellig Michael is the larger of the two Skellig Islands. The island served as a filming location for the final scene of Star Wars: The Force Awakens. It was also used for the next film in the series, Star Wars: Episode VIII.  Skellig Michael has been a major international tourist attraction due to the popularity of these films.
The smaller of the two islands is Little Skellig.  Unlike Skellig Michael, it is closed to the public.  As well as being Ireland's largest northern gannet colony with almost 30,000 pairs, it is also one of the world's largest and is of international importance.
Valentia Island Heritage Centre is housed in the former Knightstown National School, which was built in 1861, extended in 1911, and closed in 1976. There are three main display rooms: the School Room; Island and Harbour; and The Transatlantic Telegraph. Exhibitions include the very early Tetrapod trackway, geological, archaeological, social, cultural, historical and also all aspects of marine life.  Valentia Island Heritage Centre is an excellent start to a visit to Valentia Island.
There are plenty of B&B's, hostels, self-catering homes and for the adventurous, camping sites to stay in.  Dining in Valentia Island, chances are you will be treated to produce that is grown, reared and fished on the island.
The natural naturistic beauty of Valentia makes it a place not to forget.