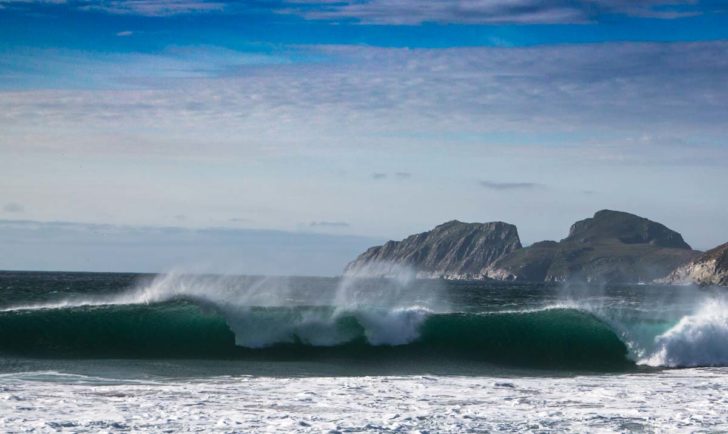 Saint Finian's Bay
St. Finian's Bay on the Wild Atlantic Way is well worth a visit. St. Finian's Bay, is nestled between the villages of Portmagee and Ballinskelligs on the Skellig Ring Drive. It lies about halfway around the Skellig Ring which means you will have beautiful views there and back.  St. Finian's Bay is also known locally as the Glen and goes from Puffin Island in the North to Duchalla head in the south.
St. Finian's Bay pier is a popular launch pad for divers exploring the exceptional waters and underwater cliffs of the Skellig Rocks.  It has the smallest beach with the strongest rip tides and is very popular with surfers and water sports enthusiasts, it is a small unspoilt beach, with the Skellig Islands as its backdrop
The area got its name from St. Finian, a man who lived in the 10th century and travelled from Skelligs to Keel frequently to say mass. St. Finian had a monastery at Keel but the area is much older than that era. There is evidence of habitation from the bronze age and there are many souterrains, galtans and the remains of an earthen fort at Rathkerin.
St.Finian's Bay has one of the best chocolate shops in Ireland.  Skelligs Chocolate, Irelands only open-plan chocolate factory!  Skelligs Chocolate produce a vast range of chocolate products including truffles, bars, tablets and fudge which combine traditional methods and contemporary flavours and designs. The multi award-winning company also offers courses in the chocolate making for kids, beginners and adults.
You won't want to leave!