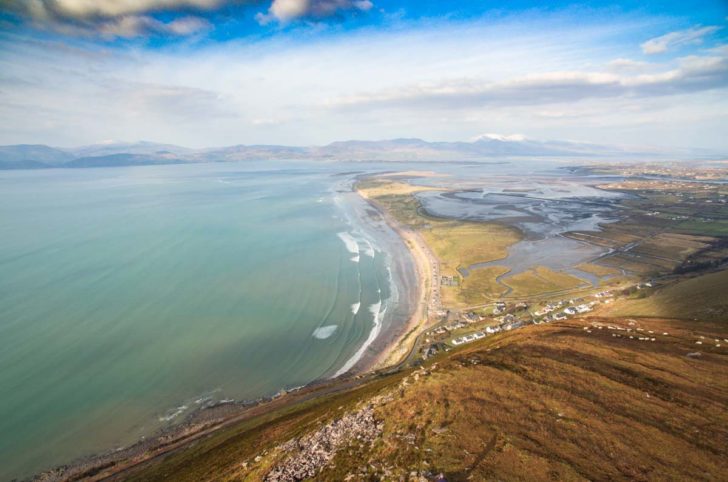 Glenbeigh
(Gaelic for – Gleann Beithe – meaning "Valley of the Birch Trees")
Glenbeigh, also known as 'The Jewel in The Ring of Kerry', is one of the county's best-kept secrets. Owing to its natural heritage, history and picture-perfect location, this vibrant village is a must-see for any adventurous voyager.
Marked by a seamless succession of panoramic close-ups of glacial corries, weathered valleys and striking peaks Glenbeigh is home to many enchanting features only nature could provide.
Resting on the Iveragh Peninsula, the largest peninsula in Southwestern Ireland, the village is wrapped in a blanket of deep blue rivers, most prominently by The Caragh River and The Behy River, which flow at either side of Glenbeigh into the colourful Castlemaine Harbour.
Cosily tucked into the surrounding rocks and ridges, it also features a rich circuit of hills and mountains called 'The Glenbeigh Horseshoe'. This circuit runs from Seefin Mountain to Drung Hill and is part of the greater 'Kerry Way', one of Kerry's finest mountain walks.
Additionally, Caragh Lake and Coomasharn Lake are most famously known as being two of the most popular sites for visitors of the area. Caragh Lake is a mesmerising four-mile expanse of water set among feathered broom and heather. Well known to villagers as a goldmine for anglers, eager to reap the rewards of its endless supply of local fish. In particular, the largest of the lakes, Coomasharn Lake, is sheltered on three sides by high rocky mountains. This safe enclosure protects the vivid lake from modern polluters and allows the lake to be one of the only places in Ireland to hold Silver Blue Char, a rare eel water fish.
Last but certainly not least, hidden beneath the shadow of Curra Hill, Glenbeigh's Blue Flag Rossbeigh Strand boasts up to six miles of grainy golden beach shores and is the centrepiece to many sporting activities, including kayaking, surfing, bird watching and paragliding. Rossbeigh is also the majestic land at the heart of an old Irish Folklore Tale. In this tale, Glenbeigh, and in specific Rossbeigh Beach, is the acclaimed area where 'Oisin' and 'Niamh' take to the sea on their magical white horse to live in the land of the youth, 'Tir Na nOg'. This tale, in particular, is a favourite amongst the locals of the Country, bestowing pride on everyone who dares to walk the land.