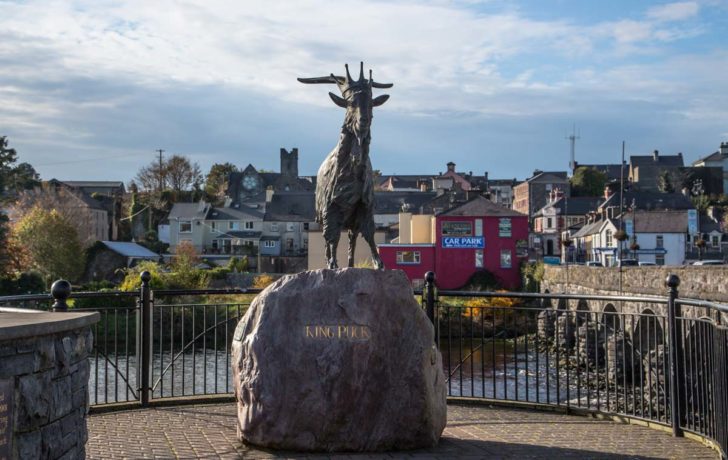 Killorglin
Killorglin Town is located in the South-West of Ireland in County Kerry.  Situated on the Iveragh Peninsula on the N70 Ring of Kerry road. It is 13 miles from Killarney and it is the first town you will stop on the ring of Kerry Drive.
Historically founded and developed on the beautiful River Laune. The Laune is well known for salmon and trout fishing.
Located on Ballykissane Pier is a monument to commemorate the loss of life of three Volunteers. In 1916 their car plunged into the sea while they were on the way to Cahirciveen in order to set up radio communications with Sir Roger Casement and the German arms ship the Aud.
The annual Puck Fair festival is held in Killorglin Town is one of Ireland's oldest fairs. The festival has been welcoming visitors from around the world to join in the festivities for many a year. The festival is held each year from the 10-12 of August. The three days were named The Gathering Day (a horse fair), The Fair Day (a cattle fair) and The Scattering Day.
Puck Fair a substantial source of revenue and business for the town as a large influx of people descends upon the town each year for the festival.
Killorglin is known for the large bronze King Puck statue on the edge of town as you cross the town bridge to enter Killorglin.
Killorglin Golf Course is an 18 hole (6460 yards) parkland course. Designed by Eddie Hackett, Ireland's foremost golf architect of his generation. The course, on the one hand, is overshadowed by the majestic Macgillicuddy Reeks Mountain Range (including Carrauntouhill, Ireland's highest mountain) and on the other, it enjoys magnificent panoramic views of Dingle Bay and the Slieve Mish Range beyond. Located in the heart of County Kerry. Killorglin is the ideal base from which to tackle the challenge of the best-known stretch of golf in Ireland. Visitors always welcome.
Killorglin is only 15 mins car drive from the base of Carrauntoohil Ireland's highest mountain.